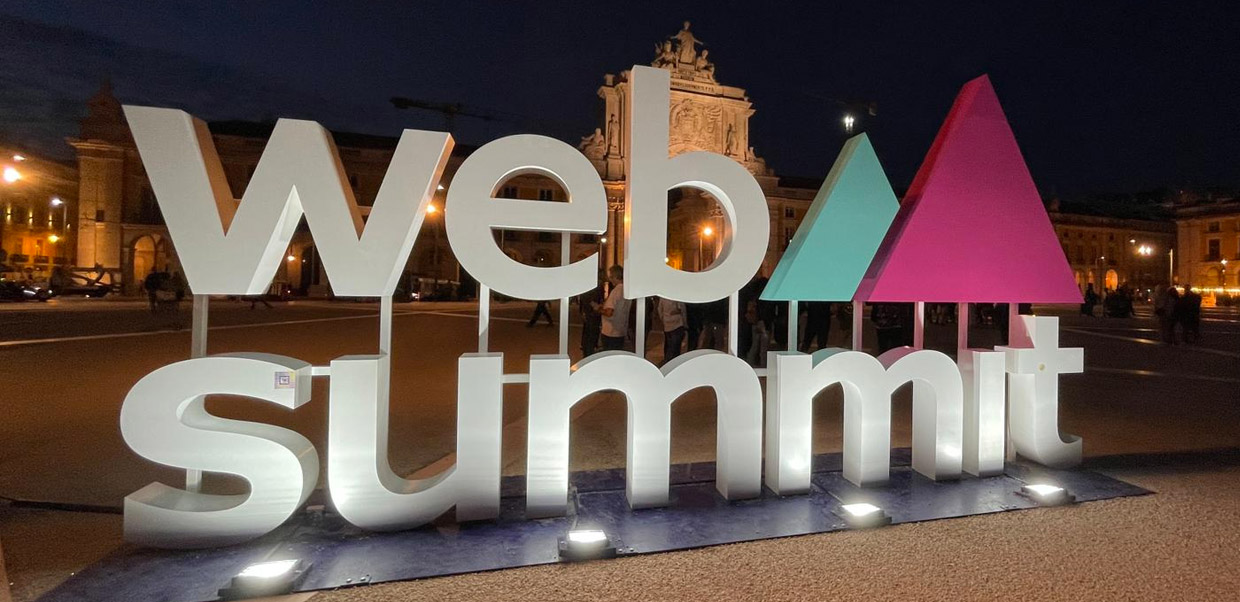 Earlier this month, Entrapeer made our debut at Web Summit in Portugal's capital city. Between tram car rides up the hilly city streets and scenic vistas of the iconic red bridge* over sparkling blue water, Lisbon made us feel right at home.
But the real reason we were there was to better understand the challenges enterprises face within their corporate innovation programs. And, of course, to demonstrate how we help innovators overcome them.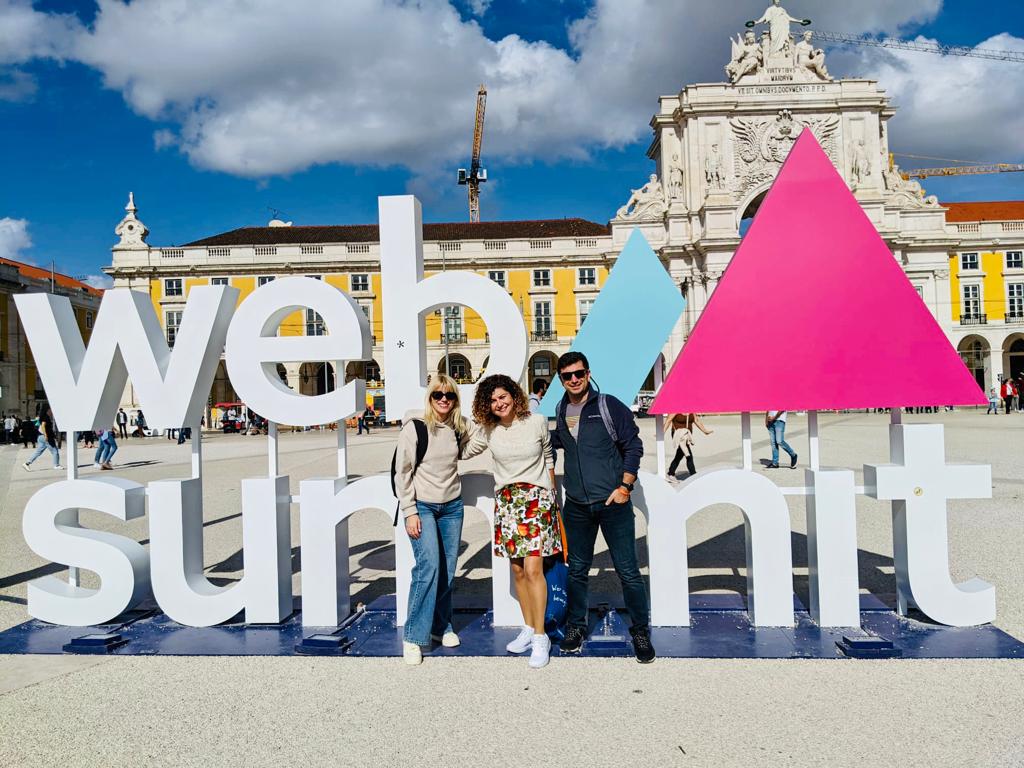 When they weren't roaming the cobble-stoned streets, entrapeer's Eren Hukumdar, Sara Holyavkin, and Zeynep Gabrali were presenting the world's largest use case database to an international audience of CEOs, CIOs, founders, and VCs. Based on their conversations and insights, we've gained new perspective on how our SaaS platform can serve as an alternative to traditional corporate innovation programs.
Here's what the team had to report.
Event Summary

Over 4 days, over 70,000 attendees flooded the streets of Lisbon to discover the latest trends in crypto, the evolution of climate tech, and the technological impact of Russia's invasion of Ukraine.
This latter topic stirred up some controversy as people contested certain guest invitations or speaker stances. But most surprising of all was the appearance of Ukraine's First Lady Olena Zelenska on opening night. In a moving speech, she called on all of us in the tech industry to apply our knowledge and tools to help others – to build a better future for our world.
Needless to say, this edition of Web Summit was more politicized than most, with the notable presence of prominent politicians and many Ukrainian startups receiving free tickets to attend the event.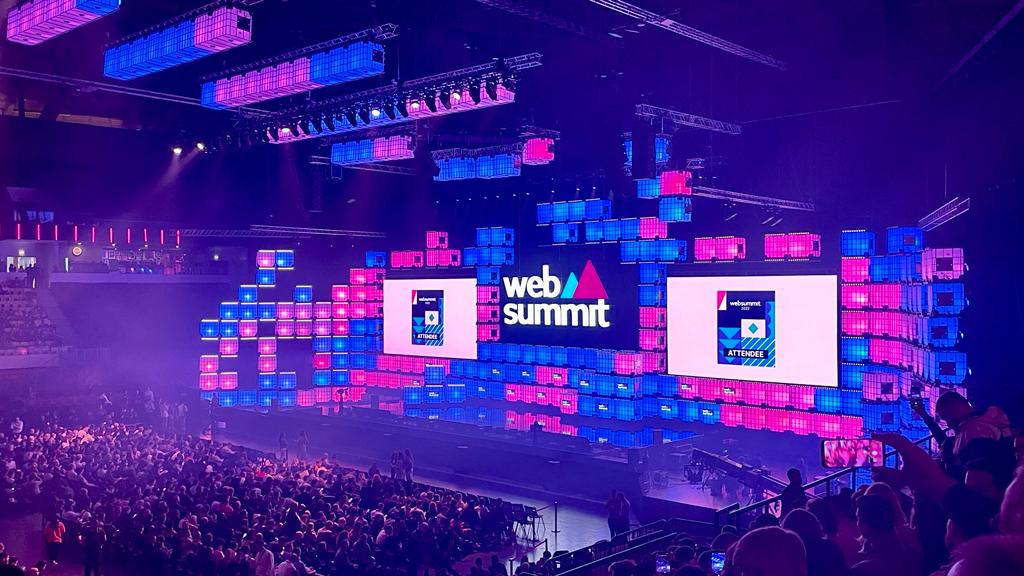 Feeling inspired (and over-caffeinated), our team entered the conference hall on the morning of the second day feeling optimistic, albeit a bit wary…Even though attendance was almost double 2021's numbers, the conference didn't require masks. While the lack of restrictions made us a bit squeamish at first, we quickly eased back into the social groove. It is events like these that remind us of what we've been missing these last few years working from home: how much we missed the creative sparks ignited through coffee chats and shared meals.
Highlight: Watching a founder's face light up when he found his own startup's use cases listed under the Web Summit 2022 theme on the entrapeer platform (with tasting pastéis de nata for the first time being a close second).
Lowlight: We noticed that many startups exhibiting at the event couldn't explain what they did (or why their work mattered) in layman's terms. Most startups default to explaining their novel tech, which – while often exciting – isn't what CIOs or business units want to hear. Enterprises want to know how that tech can apply to their organization and unlock new business opportunities. In other words: they want to know the use case.
Our Takeaways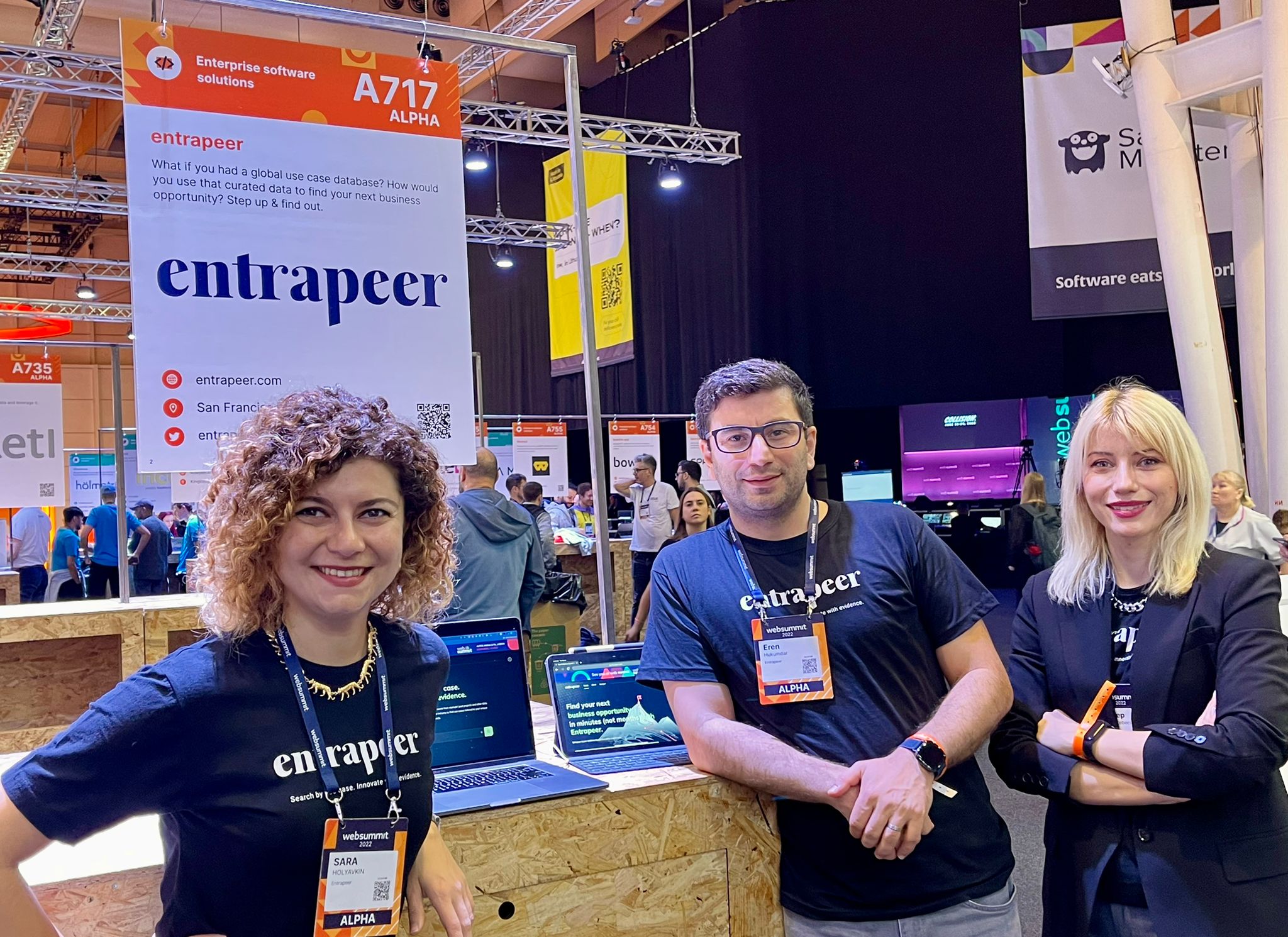 Three people is not enough! While Eren, Sara, and Zeynep (our new Head of Sales & Business Development) navigated booth demos and networking like seasoned pros, we didn't feel like we had enough people to get the most out of the conference. Next time, we'll have a few more hands on deck so we have time to attend all the impressive panel discussions, pitches, etc.
Boring bios don't cut the mustard. The Web Summit booths are very minimalist. As an exhibiting startup, we had 150 characters to grab attendees' attention and pitch our product. That's why we used a clever question to start a conversation with passers-by. Yet too many of the elevator pitches we saw were vague and so, fell flat. If all you have is one sentence, make sure that sentence can stop people in their tracks.
Information overload. There is something truly awe-inspiring about attending an event of this size. With so many experts and innovators in one place, it feels like the world is your oyster. But of course, you can't visit every booth. It helps to know ahead of time which companies to target, and to digest the event data afterward so you have a comprehensive view of the conference. As we explained to our booth visitors, these are both features we offer with our conference-specific themes and tech event digests. Armed with curated data and contextual insights, you can walk into even the largest tech conferences assured that the conversation you'll have and the opportunities you'll walk away with are both intentional and actionable.

Don't compare yourself to competitors. We learned early on that comparing yourself to direct (or even near) competitors only hurts your brand in the long run. While you might be tempted to describe your startup as "Crunchbase, but better" that association is going to stick in your prospect's head. Then it takes a lot more work to explain how you're different/better, or why you don't have the exact same features. Instead, play to your competitive advantages. Describe what you do better than anyone else and don't dilute your message with references.
Our Predictions
Web Summit gives the local economy a boost. The impact of the conference on the city was palpable, with literal swarms of people parading down the city streets. But tourism wasn't the only industry to benefit from one of Europe's largest tech events.
Since Lisbon began hosting the Web Summit in 2016, Portugal's tech sector has expanded considerably. On opening night Lisbon's mayor, Mayor Carlos Moedas, recounted some highlights:
Portugal (and specifically Lisbon) has "one of the highest numbers of unicorns in Europe."
The value of the Portuguese tech sector has increased 50 times in the last six years."
An economic package of €90 million is intended to support 3,000-plus startups across the country.
But this bustling tech scene has also created some pushback from locals.
With its sunshiny weather and attractive "digital nomad" visa, Portugal has attracted a large number of foreign tech workers (especially Americans) in the past few years. Unfortunately, this has resulted in a significant increase in the cost of living, which Lisbon residents have begun actively protesting.
It's become evident that, in an increasingly globalized workforce, tech epicenters and city governments alike will have to reassess the economic impact of digital nomadism. We anticipate further discussion about what we can do to ensure more equitable access to local resources such as housing, jobs, etc.
Crypto remains king. Crypto, DeFi, and blockchain topics stole the show, with some of the most prominent players in the cryptocurrency and Web3 space in attendance. Many of the major discussions centered around the impact (and anticipated value) of the creator economy in the years to come. Further events delved into the role of crypto and NFTs across sectors ranging from sports to gaming to the metaverse.
This year's conference proved that the crypto ecosystem has taken root, and is rising as a formidable player in a space dominated by tech giants like Google and Apple. We anticipate these companies will continue to do so as Web3 adoption gathers speed.
Other trending tech included HR tech, ad tech, and low/no-code platforms.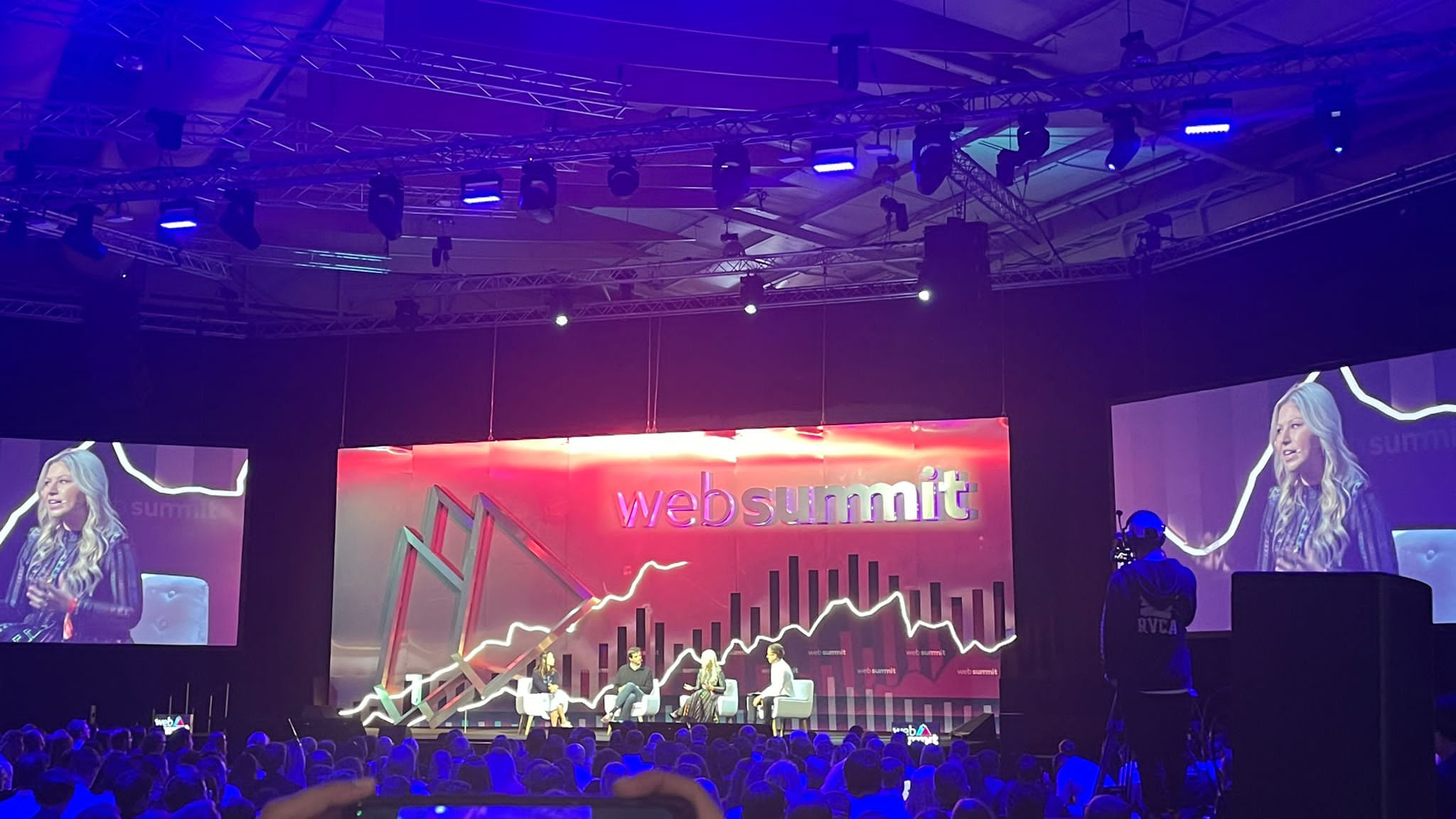 Data is not enough. As we learned from speaking to countless enterprise stakeholders, traditional corporate innovation programs depend on reliable data.
Trustworthy, verifiable data on startup tech is hard enough to find. But as many CIOs pointed out: data is not enough. They need context, supporting evidence, and insights to translate emergent tech into new business opportunities. And while there are companies out there providing insights, they come at a high price point (think upwards of USD 250,000 annually).
Dedicated innovation teams need affordable tools and organizational structures to validate their investment hypotheses and streamline the scouting process so they can spend the majority of their budget on execution (not stale industry reports). That's where we come in…
Want to learn more about the event?
Check out entrapeer's curated list of the conference's most promising use cases, rising startups, and more with our custom Web Summit Lisbon theme.
__________________
*Fun fact: the 25 de Abril bridge is modeled after both San Francisco's Golden Gate Bridge and the Oakland Bay Bridge and was built by the same firm.