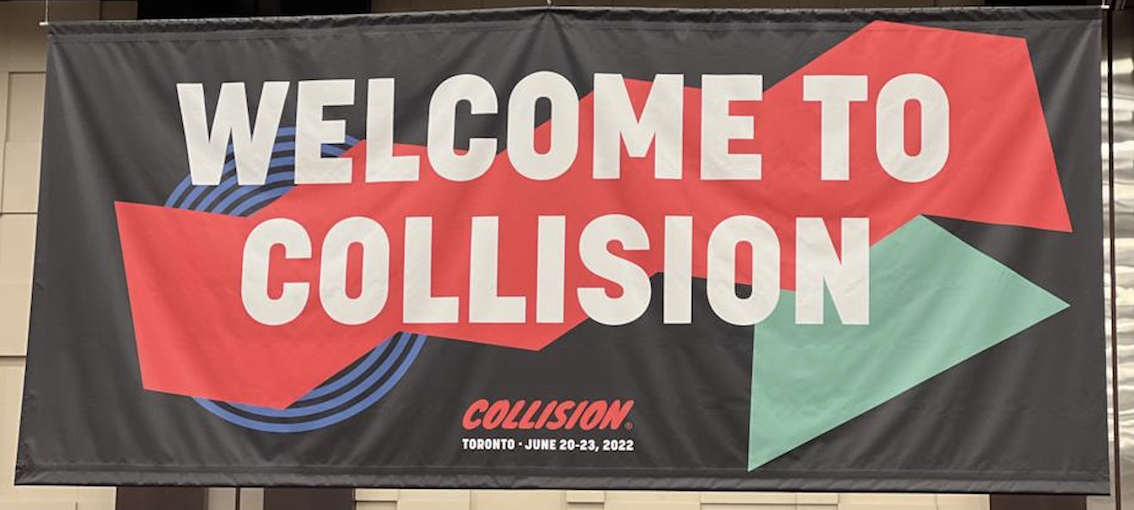 Well folks, it's been a month since entrapeer attended Collision Toronto, and – between the new client onboarding, follow-up calls, and kickoff conversations – it feels like we're finally coming up for air!
After a two-year hiatus, the "Olympics of Tech" came back with a bang as 35,000 innovators and experts gathered to share their insights on the future of their respective fields, with a goal of connecting startups with corporates. It was quite a diverse crowd with tech stars like Wikipedia founder Jimmy Wales, actress Lupita Nyong'o, and literary icon Margaret Atwood speaking on everything from Web3 to Roe v. Wade to climate change.
Entrapeer's own Eren Hukumdar and Ali Isitman traveled north to present our one-of-a-kind innovation platform that promotes corporate innovation services. Here's what they had to report.
Event Summary
Attendees were clearly overjoyed to be back at an in-person conference. The energy was palpable as we navigated the sea of people flowing between exhibition halls and stages.
While speakers presented a wide range of promising tech trends, anxieties about the likelihood of a recession loomed over the event like a storm cloud. Fortunately, our conversations with respected VCs made it clear that even though investments might slow, they won't come to a halt as they plan to continue connecting startups with corporates. Investors will, however, be more cautious about their valuations and deals.
Perhaps they'll need more verifiable evidence to back up their investments…
Highlight: Eren Hukumdar presenting our pitch at Collision's Startup Showcase. More than a few warm leads came out of the presentation, and we're excited to see where these conversations lead us. Stay tuned for further developments. In the meantime, you can watch Eren's pitch in the video above.
Lowlight: Waiting 5 hours to board the plane at SFO. More on how the labor shortage is affecting the travel industry (amongst others) later…
Also, we DO NOT recommend taking a red-eye flight before 4 jam-packed days of. Weeks of event prep + zero sleep on the plane + jetlagged nonstop networking = 2 utterly exhausted entrapeer reps.
Our Takeaways
1. Toronto is North America's rising tech hub.
The city of Toronto is rapidly becoming the next global tech hub. Microsoft, Meta, Google, and Amazon have already established satellite offices in the Canadian city, and many other tech giants are following suit.
According to a recent New York Times article, Toronto is now the third largest tech hub in North America (after New York and Silicon Valley). This is thanks, in no small part, to years of government and institutional investment, as well as Canada's liberal immigration policies and large population of foreign exchange students.
In the course of the 4-day event, we saw tons of trailblazing, Toronto-based startups. The conference also featured an area dedicated to the University of Toronto's partnership opportunities, as the school is currently in the process of building a new complex to house A.I. and biotech companies.
2. MedTech promises more personalized care.
We noticed a proliferation of healthcare-oriented digital products this year. In fact, given the appeal of this nascent field, it was no wonder that the winner of Collision's PITCH competition was a MedTech startup.
DOT Mind Unlocked offers a headset (paired with a mobile app) that registers the wearer's brainwaves and uses AI to personalize therapy. The women-led startup's mission is to make mental health more personalized, measurable, effective, and accessible worldwide. But first, they need to secure funding to launch as a B2C product.
While a lot of MedTech hype can be overblown (look no further than Theranos), we'll be keeping an eye on this one…
3. Startups need clear use cases now more than ever.
In our conversations with startup founders, digital transformation teams, and C-suite execs, one pain point arose again and again. They all struggle to define a viable use case and project return-on-investment for their corporate innovation services/initiatives.
Startups know how their product/service works but struggle to articulate how it can be applied to an enterprise and yield results as an effective business model.
Enterprise teams know the challenges they face, but they aren't aware of emerging technological solutions that could help them overcome these challenges. And so, they waste countless hours sifting through Google search results to find a prospective corporate partner.
C-suite execs know the big picture vision for their business, but they cannot predict the next best use case to help them realize that vision – at least, not with the existing market intelligence tools or investment data at their disposal.
They need verifiable evidence on existing startups and vetted use cases for novel technologies. They need proof of ROI and a roadmap to implement their own POC project. That's where we come in.
Of course, hearing these innovation stakeholders describe their pain points validated the need for our platform. And we were thrilled to have the opportunity to share entrapeer with many startups and enterprises at Collison. But it also strengthened our commitment to making our corporate innovation services more accessible, actionable, and attainable.
We hope that with time, we can gain the visibility to empower innovators around the world with concrete use cases and verifiable evidence.
Our Predictions
As you well know, it's impossible to reliably predict where technology will take us in the coming years. But, based on our extensive use case database and years of corporate innovation research, we feel that we can comfortably field a few forecasts…
1. Climate tech is heating up.
Despite the recent Supreme Court EPA ruling, it's safe to say that the climate tech sector will continue to expand both in the US and beyond.
Extreme weather events throughout California, Italy, and Australia have only – if you'll pardon the grim, though apt, analogy – added fuel to the fire by highlighting the rapid acceleration of climate change.
What's more, the war in Ukraine has spurred European nations to look for alternatives to Russian oil. Though critics claim that the EU's plan to phase out Russian fuels by 2030 is "wildly optimistic," proponents hope that cutting the volatile costs of importing fossil fuels will help stabilize global economies.
Climate tech startups are uniquely poised to usher in a revolutionary change in the energy sector – if they can find the corporate backing to bring their solutions to life.
2. Work from home is here to stay.
As companies around the world attempt to lure workers back to offices – or force them back with penalties and pay cuts – it came as no surprise that the future of remote work was a recurrent theme throughout the Collision conference.
The pandemic forced employers to acknowledge that maintaining productivity while allowing employees to work from home was indeed possible. It also raised a number of new concerns like:
How do corporations and startups foster a sense of belonging with a virtual team?
How can organizations ensure equal opportunity for facetime with upper management with a hybrid workforce?
How can employers track productivity and time management without violating employee privacy?
A growing number of startups have arisen to answer these questions. Meanwhile, the Netherlands recently passed a bill ruling that working from home should be a legal right in the hopes of fostering a better work-life balance. But we are still in the midst of the great "work from home experiment."
It will be interesting to see how enterprises evolve to meet this growing demand – and which companies get left in the dust for clinging to old ways.
3. Labor shortage or lost opportunities?
If you've experienced the chaos of an understaffed airport recently or found your favorite restaurant unexpectedly closed on a regular night, you've felt the ripples of the labor shortage.
While the effects of this shortage are most publicly apparent in the travel and hospitality sectors, they extend to other industries as well. According to a recent study, the global talent shortage reached a 16-year high, with 75% of employers reporting difficulty finding qualified employees.
It's easy to blame declining birth rates, the Great Resignation, decreased college enrollment, or other factors (typically ascribed to "entitled Millenials"). But there are bigger forces at play here.
Even before the pandemic, many Baby Boomers were aging out of the workforce and retiring. Simultaneously, harsher immigration policies decreased the number of work-eligible, legal immigrants in the US. There are countless other factors to consider, but ultimately, we cannot ignore the fact that the pandemic forced many workers to reevaluate their career paths.
Today's workers want their work to be fulfilling. They want equitable pay and benefits that allow them to thrive as people – not just employees. They want a work culture that allows for better work-life balance.
Many of the startups featured in Collision's "Future of Work" Showcase strive to help employers meet these demands so they can attract and retain talent. Enterprises that fail to recognize the value in doing so are bound to lose out to competitors who keep employees' interests at heart.
Even with the looming recession, we anticipate that employers will increase investment in building attractive, employee-centric workplaces.
That's all we've got for now! But we've got some exciting events coming up this fall with Money 2020 in October, and Web Summit in November. Stay tuned for more details about those conferences and how you can keep up with the latest entrapeer news.