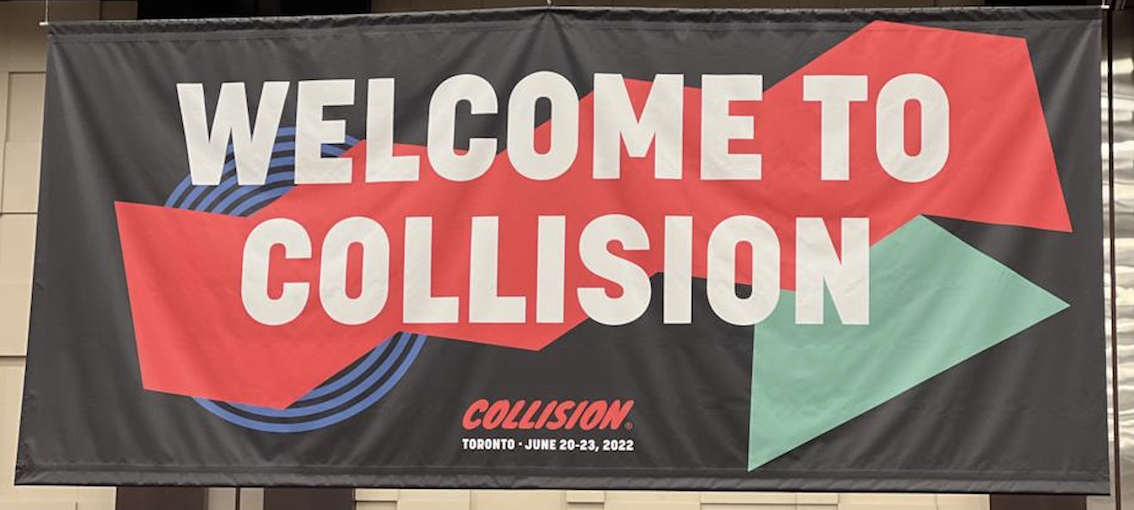 In case you haven't heard, the Olympics of tech is coming to Toronto in 1 week. And guess who's gonna be there…
That's right! Your favorite innovation matchmaker.
Seriously though, we're looking forward to connecting with innovative enterprises, trailblazing startups, and visionary VCs. Come find us at booth A2211 on Wednesday, June 22nd. Better yet, stop by the Startup Showcase at 11 am on Thursday, June 23rd to hear our pitch on how entrapeer's reshaping the Future of Work.
If you can't make it, we've got you covered. We'll be combing the conference data to create a theme detailing the trends, use cases, and promising new business opportunities we curated from the event. Keep an eye out for that on the entrapeer platform later this month.
We'll keep this brief since we've still got some packing and pitch prepping to do, but if you are able to attend Collision, we've got some exciting news and strategic tips below.
Find us at the Startup Showcase
On Thursday, June 23rd, entrapeer will be presenting live on stage at Collision's Startup Showcase.
Out of the thousands of startups attending, we're honored to have been selected for this special session on the Future of Work. Our very own Eren Hukumdar will be discussing how our SaaS innovation platform is reshaping the way enterprises and startups collaborate.
Be sure to swing by at 11 am sharp and stay for our pitch.
Our Top Picks
When we're not pitching, here's where you'll find us:
The innovation trap: The top mistakes startups make
Speaker: Mike Apted, Principal Solutions Architect of AWS
What does Web3 mean for your startup?
Speakers: Amanda Cassatt, Co-founder & President / Co-founder & CEO of Mojito / Serotonin; Tegan Kline, Co-founder of Edge & Node; Caleb Silver, Editor-in-chief of Investopedia
Using AI and satellites to spot every source of greenhouse gas emissions on Earth
Speaker: Gavin McCormick, Founding Member of Climate TRACE
Tried and Tested: Easy Wins for Corporate and Strategic Partnerships
Hosted by Hanno Stegman, BCG Digital Ventures; Michael Sonderby, BCG Digital Ventures
Using Recurrent Neural Networks to Generate Game of Thrones Scripts
Hosted by Microsoft
How 5G Will Unlock New Business Opportunities
Hosted by Lazaridis Institute
You can check out the full schedule here.
4 Things to Know Before You Go
With over 33K attendees, 1250+ startups, and 850+ investors present, Collision can be a little intimidating.
You want to make the most of your time and speak to as many people as possible. But how do you navigate the tides and tune out the noise to find your startup soulmate, perfect enterprise partner, or ideal investor?
We've listed a few tips to keep in mind as you prepare your pitch:
1 Keep it real and ask: "What's the use case?"
It's easy to get carried away with the lofty promises of new technologies. But before you schedule your next kickoff call with a trendy startup, ask yourself: How can this technology create new business opportunities within my enterprise?
Starting the conversation in concrete terms can save you countless hours (not to mention dollars) and ensure that all parties are on the same page right out of the gate.
2. Keep an open mind.
Sometimes, opportunities arise where you least expect them. So don't limit your search for innovation partners to your own industry.
Many startups who get clear on their use cases are able to "cross-pollinate" – or collaborate with enterprises outside their own sector – because they've done the hard work of defining the problem and proving their product to be the solution, no matter the industry.
3. Keep your ear to the ground.
It's impossible to track all innovation news, all around the world, all at once. But you can cut through the noise to find data insights, trend reports, and more using entrapeer's themes.
Themes make the use cases most relevant to you, and more discoverable. So as you come across novel tech and emerging trends, check out our platform to validate your investment thesis or support your innovative idea.
4. Keep an eye out for evidence.
Flashy websites, pitch decks, and case studies are good at catching the eye, but if they aren't backed by evidence there's no way of knowing whether they represent a real innovation opportunity.
Keep your eyes peeled for verifiable proof that a product works – stuff like academic papers or third-party reports. You can always visit the Entrapeer platform to see if the startup you've got your eye on is verified in our database.