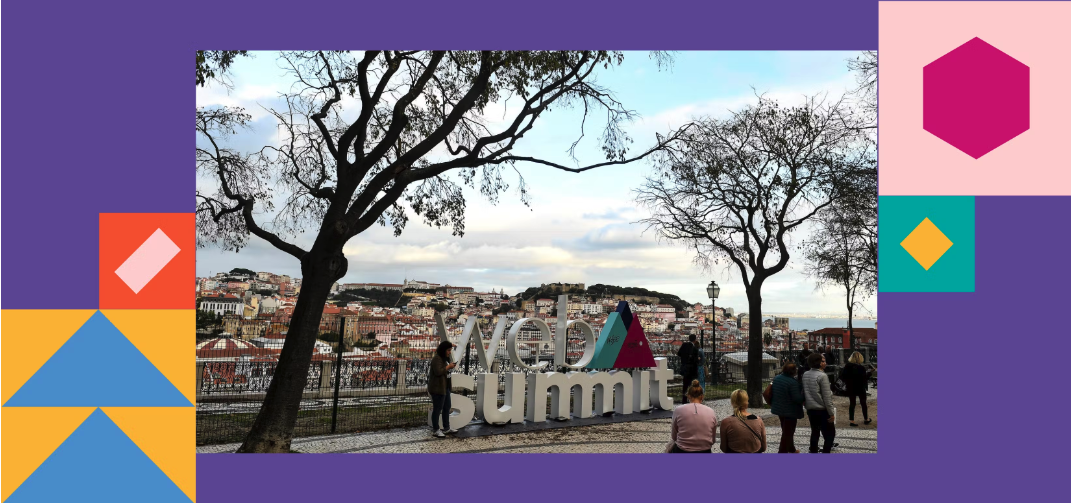 Web Summit: Lisbon Conference
Web Summit is a company from Dublin, Ireland, that holds events worldwide:
Web Summit Rio in Rio de Janeiro
The Lisbon conference is their flagship event.
Web Summit 2022 brings together 70000+ attendees, 2000+ startups, 900+ speakers, 1000+ investors, and 300+ partners from 160+ countries who will be redefining the tech industry. This theme contains use cases from selected startups that attended the Lisbon conference, Web Summit 2022.
Industries of startups featured at the event range from smart cities to clean tech, retail tech, or even HR tech. Here are the main focus areas:


Auto/tech – The future of transport
Auto/Tech brings together engineers, developers, companies, and experts, redefining the way traveling in cities, on streets, and through skies. It's all about technologies revolutionizing mobility such as connected cars, autonomous vehicles, and the Internet of Things (IoT).


Corporate Innovation
Corporate Innovation brings together the world's biggest companies as they confront the major issues facing businesses today, such as digital transformation, sustainability, innovation, and the future of work. 


Content Makers
This section unites the creators shaping what people consume on- and offline with the leaders of the platforms that amplify their voices.


Cryptocurrency
Cryptocurrency – once understood only within a small community of people – has now become a household topic. Crypto brings together the giants and disrupters, forging the way to a new world. This category includes the future of cryptocurrency, Web3, DeFi, Metaverse, and GameFi.


DeepTech
This category covers everything from nanotech to quantum computing.


Designing the Tech of Tomorrow
It's all about the future of computer engineering:
Privacy & diversity in data,
the next steps in Web3, and more.


Future Societies
Future Societies gathers tech innovators, policymakers, and activists to examine how technology is transforming how we live, learn, work and play.


HealthTech/MedTech
This section gathers the world's most exciting MedTech innovators, industry giants, and startups using tech to help people live longer and better.


The fashion of the future
The fashion industry has embraced technology with open arms, and innovation burns brighter than ever on the catwalk. As technology reaches new heights, will it be the friend or enemy of creativity?
This category explores the collaboration between fashion and technology, focusing on the industry's transformation in recent decades and on revolutions yet to come. 


The evolution of finance
This is where the world's leading banks, tech firms, and fintech startups meet. This section sits at the intersection of finance and technology.


AdTech and Marketing
This is where companies are talking about the power of brands & digital platforms, advertising in a privacy-conscious world, and values-based marketing.


Sustainability and climate tech
Our planet is facing an incredible set of challenges. Under this category, leading innovators, startups, companies, and activists come together to discuss the solutions to the environmental crisis. 


Future of work
Remote work is all about how employees get their jobs done today. This category looks at work issues, including the continuing trend for remote working post-pandemic and what it might mean for employers and employees.


SaaS Technologies
This is where tech companies are altering our day-to-day lives. Some of the biggest players in cloud computing, big data, security, customer service, and enterprise technology convene to design the future of work.


Security – Safety online for a safer real world
The things people do and the information they share online can have massive real-world consequences. Identity fraud has surged in recent years, and hackers are becoming ever more sophisticated.


Future of sport – More than just a game
The growth of esports, NFTs, athletes' personal brands, biometrics, and other factors has transformed the sports industry. 


Rise of machines
Drones, factory lines, hospitality, healthcare, and home… Wherever you look, there's evidence that robots are here to stay. What could be expected from personal companions to commercial robots over the next 10 years?


Creator economy
Social media and e-commerce will continue to shape business and culture long into the future. This category is about a new generation of creators driving cultural trends and deep online discussion.


Stay tuned for the announcement of Web Summit Lisbon's PITCH finalists! We'll be posting the finalists and their use cases here November 4th.
Join the entrapeer community today and stay up-to-date with current trends.